CD Launch today!
OK, so "Alive and Alone" has been written, recorded, mixed, mastered, duplicated, and promoted. Today is the big launch party at Bellbowrie Tavern! Here's the flyer I bashed together to promote it:
Cute, huh! I came up with that hook in a moment of inspiration. It's been 10 years since "I am Leaving! I am Leaving!" was released, and the reason I was not able to capitalise on that release and my PhD research (and thus create a music career) was that I got divorced, which left me a single dad. I thought it was funny and several people agreed ...
Because "Alive and Alone" is a worktape album I didn't want this to be a massive thing ... I just wanted a few close friends to come share the moment of my return to releasing music. It's very personal and special and not a massive industry moment. Hence the choice of venue and low-key promotion. I've really only created a Facebook event and printed a few flyers for this, which I have distributed to close friends. Next one, "Three's Company" will be bigger.
Gonna play the whole album as it sounds here - after opening with a cover, and then finish the set with a mix of covers and songs off "I am Leaving! I am Leaving!" with my good mate and fellow Genre Bender, BassGumby. Hopefully sell a few copies of the new and old. Lots of hanging with friends, autographing copies and generally being relaxed after the show ...
In the interests of radical transparency for the Tetrafasi Project, here's the math: Pressing plus freight cost about $380 for 100 copies; printing the flyers cost $22.50; I bought a Square reader for transactions for $71. Venue hire is covered by them keeping the bar takings, so that's it apart from a little petrol to deliver the flyers. At $20 a copy I need to sell 24 to get my money back. Not confident, but we'll see what happens ... my beloved Suzie is helping out and my friends have supported me heaps already ...
Thank you for your time and support in reading about my adventure.
Posted by Huge at
11:08 AM
|
Comments (0)
At last! Marriage equality ...
Congratualations to the Australan Parliament for finally doing what we all knew the a majority of the Australian people have wanted for some time - allowing Same Sex Marriage. This is wonderful development that will improve the mental health of some people ... and generally make the world a more loving place.
However, I cannot condemn enough the complete waste of time and money that the Plebicite was, nor the opportunity it created for ignorant, unhinged public debate. This produced the most irrelevant, non-sensical garbage that has ever emerged blinking into the public light. Outrageous claims were made by bigots and disgusting slurs and allegations levelled at wonderful people. Malcolm Turnbull and Tony Abbott and the entire conservative/"Christian" cadre or parliamentarians stand comdemned by history for that.
For the record, we proudly voted to support our gay friends and allow them equality on the most fundamental and personal level: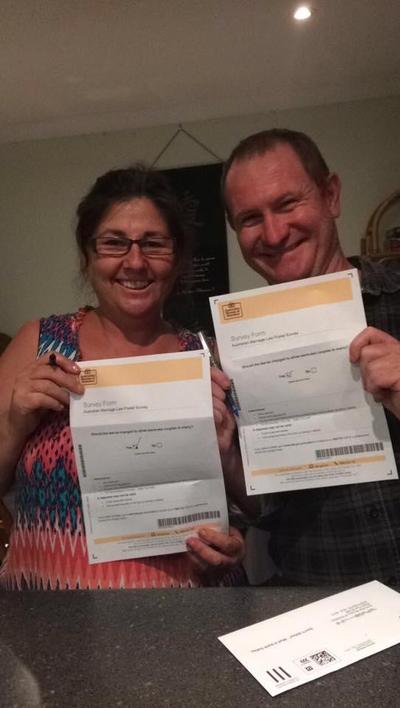 Now, can we please get on with addressing issues that require careful thinking, deep analysis and strategic thinking? Like ... I dunno ... making sure that disgustingly rich people pay their fair share of tax?
Posted by Hughie at
9:42 AM
|
Comments (0)