This site is about MUSOS MAKING MUSIC. On their own terms and in their own way - Independent.
I'm a music business coach.
I help Musos make the music they want.
Specifically, I help you:
Define clear, achievable goals
Write better songs
Make the most of every gig - on and off stage
Build and manage a dedicated fan base
Tap every available source of income
Develop a cost-effective marketing plan
Manage your budget
Produce and release recordings to attract attention AND sales
Develop kick-ass marketing materials and channels
Expand your networks at appropriate stages, and
Correctly set up and tap social networks
I spent four years studying Independent music business strategies for a PhD at QUT and in the process founded Musowiki. I used my own music as a research tool and I still write, play and sing, but I now help other Musos who'd like take the next step in building a satisfying musical career.
Music? What music? Where?
My music is quirky and many-splendid.
That means I can related to anyone's music and give you sound advice.
I've played in theatre musicals and orchestras. I've played in top-40 covers bands and originals bands. I've played death metal and jazz, rock, reggae and Celtic folk music. I've worked on hip hop collaborations and movie scores. And I love it all! My media materials are here.
My musical output includes The Genre Benders and Bun' Ber E. Unlike most other "consultants" I have lived this reality for more than 20 years so I know exactly how what I say affects Musos personally, creatively, professionally and financially. I'm still researching at QUT's Institute of Creative Industries and Innovation and I'm still active as a songwriter, performer and producer, so I'm up to date with the latest developments in the world of Independent music.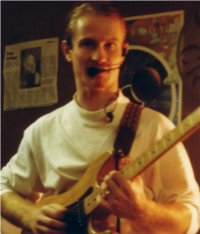 My recordings are all available for free download from one of these sites, though if you like it and want to support my efforts it would mean a lot to me if you bought something from CDBaby, Cafepress and other places spelled out in my output page. You'll need to subscribe (see the box just below the top left corner of the page) to hear about my thoughts, shows and writings directly.
A chat about what you can do will cost a cup of coffee. If you'd like me to examine your business and write you something ... like a business plan ... I cost real money. If you want me to implement some of it for you things get more complicated but I can always be encouraged to work harder or cheaper with things like CDs of great music, t-shirts or tickets ... :-) Just drop me a line.
This blog, Musowiki and my book "The Independent Musician's Roadmap" are all free - help yourself. I'm a journalist, having edited On Line Opinion for five years before starting my PhD, so I'm happy to talk to people from other creative industries as well as music. My ideas and activities are worth what you pay for them ... and that's a very powerful concept.