Recording setup
Wanted to share the technical aspects of my recording process ... just for all you nerds and gear sluts. It's not very impressive, I'm afraid ...
I'm using Pro Tools 9 on a 2011 Macbook Pro. I have an M-Audio Profire 26-26, which works beautifully and sounds fine to me ... but its drivers are deprecated for upgraded Mac OS, so I need to get a new system. I have bought Pro Tools 11 (I think it is) but can't install it because I'll have to get a whole new DAC interface as well. This is what we called in my PhD "Upgrade fatigue" and it's a problem for all home studio owners.
Of course, the software deprecation means that I only have Pro Tools native effects to work with. None of the AIR effects works, which limits what I can achieve in significant ways ... though I have a theory that only audio professionals will notice. Time will tell ... :-)
So, Microphones. I am using Rode microphones because of the bang for their buck: NT1-A on vocals (same one I used "I am Leaving!") and a matched pair of NT-5s on the guitar. I am aware of the EQ issues with Rode mics soundy tinny ... Magoo told me all about it when he mixed "Budget Crisis" and James tells me that I could buy an very cheap adapter that modifies the Rode diaphragms to eliminate the effect. Apparently, these adapters make the cheap mics sound awesome - will probably buy them for the next album.
In terms of damping, I'm just standing in my home bedroom/studio. It's a funny shaped room, which I'll map later if anyone wants that much detail. I use a standard pop shield on the NT1-A and foam covers on the NT5s, as you can see below.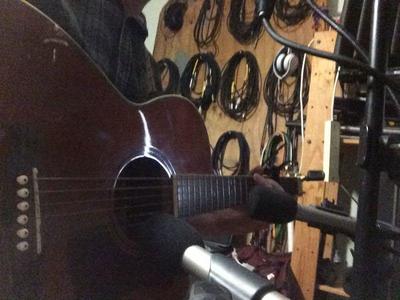 I also place a barrier behind the NT1-A, just to try to concentrate the sound a little more. I realise that the NT1-A is cardiod, but it makes me feel better to have something between my mouth and the less soundproof parts of the room - like the glass doors. You can see them in this shot, along with the mic height - I try to sing over the top of it ...
The stomp box is a home-made pine box with an SM-57 under it. I found a piece of wood with a very convenient knot-hole in it - I run the mic cable through this. Very neat solution: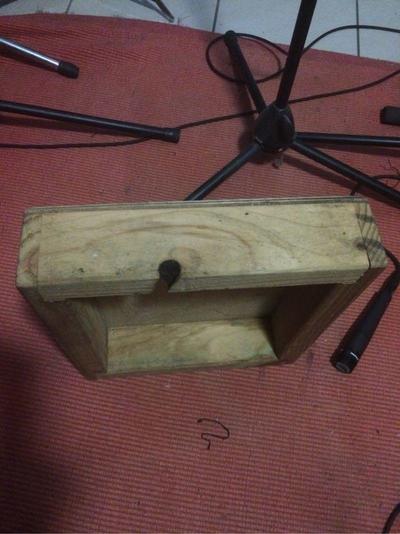 From the performer's spot, the setup looks like this (with the NT1-A on the mic stand, just out of sight above the photo):
So that's the recording setup in a nutshell. This produces some quirks that I will discuss in different posts about specific parts of the process. Let me know if there's any specific aspect you'd like to know more about ... or if you know more about this than I do, please comment to suggest better approaches ...
Posted by Hughie at October 7, 2015 11:22 AM