Tetrafasi launched ... sort of.
OK, so two important things have happened recently. First, I created a logo for the Tetrafasi project: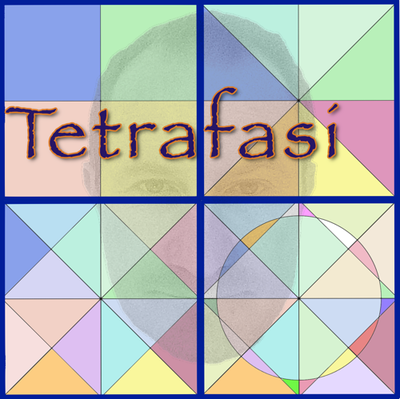 Pretty cool, hey? Only a full day of work last Friday ... and acoupe of days reflection and refinement ...
I had the idea for it when I was thinking about how this project might work and what it all means - while I was writing grant applications. :-) Like the project, it's meant to represent four stages of development from a basic 4-part colour square, to the conversion of that into triangles (three-piece) to the doubling of that complexity (the band), to the addition of a completely different element in the circle (the producer), which doubles the number of colours and shapes in the pictue. The colours are all variants of the same blue-green-yellow-red combination. As the complexity increases, the existing colours are replicated but reduced in size, while newer variants are introduced and contrasted with the other colours in their locations.
To me, this represents the production process: the more work you put into the song, the more subtle it becomes. Some things that were emphasised earlier become less important, while newer elements add complexity and subtlety to the overall picture.
I launched it on Hugemusic's Facebook page with a cryptic pre-publicity tag of "Coming in 2018. Songwriters watch this space". Published it into several local and international songwriting groups and pages on FB. Still needs a tag line ... any suggestions?
The other thing that happened yesterday was that I submitted two grant applications to fund this thing: one to Arts Queensland to pay for James North's production; and the other to the Australia Council to pay for the performances of the musicians on Three's Company and Banding Together. I have budgeted to pay them at Award rates though, like most of this kind of gigs, we will probably put more time into this than we will be paid for. That's the unfortunate nature of creative industries.
Now, there's absolutely no guarantee that I'll get any of these grants. They are both about $40K, which is big bucks for this kind of grant, so it's a long shot. If I get the AQ one I can at least proceed with the project as long as the musos agree to record in exchange for a back-end deal - they get a cut of whatever the recordings make. That's Hugemusic's standard deal but in this case they're putting in a lot of work and I'd rather make sure they get something up front. I'm a firm believe in paying the musos ...
Then I have to create the workshops and get them out into the regions ... easire said than done. Bt I am determined, I have the support of some key organisations in Woodford, ASA, and CAAMA and a great team. Just hope I can get the opportunity to show them how awesome this will be ... :-)
Posted by Hughie at September 4, 2017 10:03 AM