Woodford Folk Festival 2013/14 review
This year I had the great honour and priviledge to gain a spot as a Stage Manager at the Woodford Folk Festival, one of the biggest live music events in the world. I was initially appointed to Bill's Bar, which was in its second year of operation.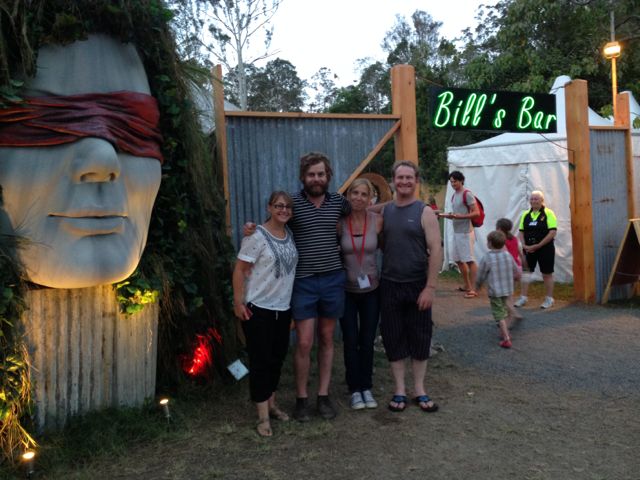 Here's the Bill's Bar stage and venue crew: Belinda (Venue Manager), Guy, Melinda, and me (Stage Managers).
The experience was (almost) indescribably great. I met so many wonderful people, saw so many inspiring acts, and heard so much great music ... and I got to do it for the price of being in the middle as a volunteer. I thoroughly recommend this approach to anyone who loves the entertainment industry.
At Bill's we were blessed with a totally professional crew: the tech/sound guys were awesome, the bar staff were great, every act was easy to get along with. The most notable issues were a guy who got hurt when another patron accidentally sat on his foot (in a chair) and a carpet snake who paid a visit to the tree near the backstage area. Nothing to remark there. Everything went smoothly.
The Day before New Years Eve I was called up to replce another stage manager (who had been injured) on the Amiphitheatre stage (the biggest one) for New Years Eve. That was very different to Bill's but similarly inspiring and rewarding. Again, we had a great crew and no major incidents.
I had the gret pleasure of working with Dubmarine, who opened the NYE show. Total professionals and such lovely people. High-energy show that rocked! They were followed by Braebach (much more technically complex setup but they made it easy), who launched the hogmanay celebrations, then Peat Bog Faeries (seriously rockin' celtic tunes), and th evening was filled in by the extraordinary rythms of Wild Marmalade (and friends).
Next morning I was up to re-open Bill's at 8am (seriously tiring experience, this one) and my year was made (on Jan 1) when a beautiful young barmaid asked whether my son Jordan and I were brothers (I'll never let him forget that). New Years' day ended with the fire event, which had a kids monster theme nd began with a massive procession into the amphitheatre space.
The blue thing in the middle is teh amphitheatre stage and the red thing on the left is the fire-to-be, which was packed during the show with fireworks, resulting in a spectaular flaming conclusion, washing away the past year and starting afresh.
I hadn't been to Woodford since Bun Ber E played there in the ?early 2000s? but I am a certain starter, with kids, for next year. Such a wonderful experience, so many great memories. AND I caught up with some old friends and family who came to visit, as a bonus.
Posted by Hughie at January 13, 2014 2:49 PM