My studio
Thought I'd take some pics of the studio to show you ... it's pretty primitive.
Here's the mixing setup, which is what I'm doing most the time at them moment: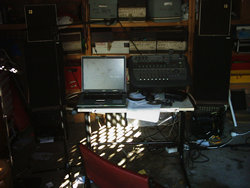 It's in one half of my garage ... and cannot be sealed away from the weather, though I can keep most of the nastiest conditions out ... :-) I have my Digi002 and laptop on the desk, with the Digi002 sitting on top of my power amp, which is connected to two sets of speekers via a small three-way switch. The smaller speaker (on top) are ancient PYE Hi-Fi speakers from my parents old record player when in was a kid. The larger pair are much newer Phillips three-way bins. Much nicer sound. I need to get them higher off the ground.
Here's the printery:


It's really just an old P4 (which used to be the studio PC) and an Epson RE310 printer, which can print on CDs as well as paper. I need to improve this because the CD tray keeps jamming unless I give it a nudge at a certain point on the way into the printer ...
And here's the booth: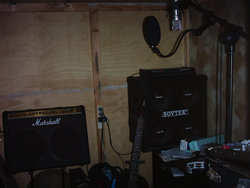 The mic is a Rode NT1-A. The rest is labelled except for the 5-string bass, which is a Fender Squire.
That's where I do things ... it's not much but it's al lI have ...
Posted by Hughie at June 13, 2007 10:05 AM