January 27, 2014
Beware the trap of fixed ongoing service fees - Mouthzoff column
This is my sixth column for Mouthzoff magazine. It was published in September. This topic doesn't seem important to a lot of Indies, who just want as much cash as they can get quickly. But it's vital to make smart choices about this issue to build a sustainable career with credibiity as well as ethics.
Last edition I wrote about technologies that can help artists build and manage their music business. There are plenty of these, and I highlighted several that are fundamental to building a music business: social media, email management, a gig guide, and an online shop.
There are too many organisations offering these services for me to catalogue and discuss them here. But they broadly fall into three categories: ones that are free or open source, ones that charge a fee to help you out, and ones that offer a limited version for free but then charge when your needs get beyond a certain size.
Similarly, when it comes to paying for these services there are almost as many variations in fees structures as there are service providers. Some are great and cheap, some are great and expensive, some are not worth paying and some are downright shonky. It's up to the artist or band to do their homework and choose carefully.
However, in Independent music land, there's one important ethical consideration to bear in mind when it comes to choosing which services to hire: some of them are geared to share your risk and grow with you while others insist on taking up-front fees and leaving you to sink or swim. This is most obviously seen in the digital distribution fee structures of Tunecore and CDBaby.
As at the time of writing, Tunecore is a digital-only distributor and charges a flat $29.99 per album for the first year and $49.99 each year thereafter ($9.99 per single). Their main sales pitch is that they do not charge a commission on digital income - the artist gets to keep 100% of the income they generate.
CDBaby charges a flat, once-off $49 per album release ($12.95 per single) to set up the shop page, plus $4 per copy (CD or Vinyl) sent to a customer and 9% of digital distribution income. Both companies ofer various options and extras, but that's the basic package for their distribution services. All figures are in $US.
The most important difference in this the percentage charge CDBaby takes from digital sales vs the flat annual fee Tunecore takes. Essentially, this means that, after initial setup costs have been recovered from either service, CDBaby will pay the artist something for every sale, while Tunecore will pay 100% of every sale over a fixed amount every year. In other words, CDBaby will share in a Muso's sales outcomes - good or bad - while Tunecore will only help them if they exceed a certain size. Then they give the artist all the proceeds.
The Tunecore approach sounds appealing to the ambitious-but-inexperienced Muso right up until they realize that most releases will NEVER exceed Tunecore's threshold amount and thus the artist will make nothing from them. On the other hand, those using the CDBaby approach will at least make something.
Tunecore are not the only ones who use this flat annual fee. In fact, as far as I know, CDBaby are the only digital distributors who take a percentage. Although other companies are willing to take a percentage - and thus share in the artist's risk -for other services, it is a constant disappointment that this structure is not used more widely and the Independent music community are worse off because of it.
The other important aspect of this equation is that musical releases do not sell a consistent amount every year. They sell very few at first, then grow for a while and then tail away to sell very few for the rest of their time. This is called the "product lifecycle" and this means that even a release that sells very well for a while will spend most of its lifecycle selling below the annual fee threshold. The artist will lose money every year that release is available but selling below the fixed amount.
More important than the math is the ethical position: CDBaby has adopted the view (as I discussed with Derek in 2005) that they will share Independent Musos' risk and make more or less money as their artists do. Tunecore and other companies do not. It is essential for small-but-growing Musos to work with services that share their risk wherever possible because that works best for the artist, the service and the community as a whole. Personally, when the good times roll in I have no problem rewarding the company that has at least given me something when sales are not so good.
The lesson? Musos should seek out services that will share their risk and their rewards wherever possible. The flat-fee approach works well for a finite service like a marketing campaign for a release but should be avoided where it requires a commitment to ongoing fees. It also means independent artists need to have back catalogue available that will also sell when their new material is released - but that's a topic for another column.
Posted by DrHuge at
1:42 PM
|
Comments (0)
January 13, 2014
Woodford Folk Festival 2013/14 review
This year I had the great honour and priviledge to gain a spot as a Stage Manager at the Woodford Folk Festival, one of the biggest live music events in the world. I was initially appointed to Bill's Bar, which was in its second year of operation.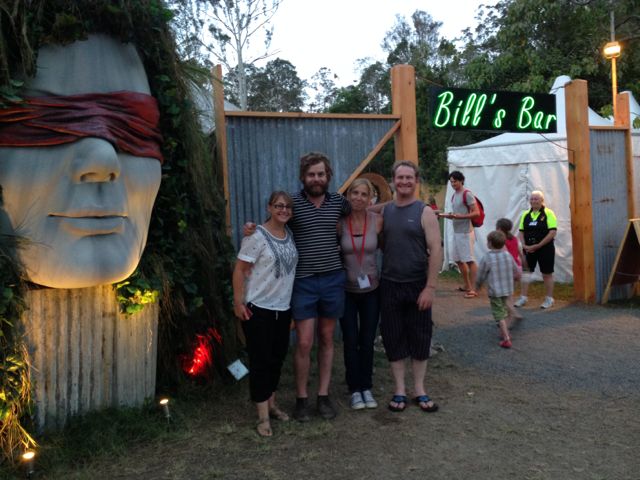 Here's the Bill's Bar stage and venue crew: Belinda (Venue Manager), Guy, Melinda, and me (Stage Managers).
The experience was (almost) indescribably great. I met so many wonderful people, saw so many inspiring acts, and heard so much great music ... and I got to do it for the price of being in the middle as a volunteer. I thoroughly recommend this approach to anyone who loves the entertainment industry.
At Bill's we were blessed with a totally professional crew: the tech/sound guys were awesome, the bar staff were great, every act was easy to get along with. The most notable issues were a guy who got hurt when another patron accidentally sat on his foot (in a chair) and a carpet snake who paid a visit to the tree near the backstage area. Nothing to remark there. Everything went smoothly.
The Day before New Years Eve I was called up to replce another stage manager (who had been injured) on the Amiphitheatre stage (the biggest one) for New Years Eve. That was very different to Bill's but similarly inspiring and rewarding. Again, we had a great crew and no major incidents.
I had the gret pleasure of working with Dubmarine, who opened the NYE show. Total professionals and such lovely people. High-energy show that rocked! They were followed by Braebach (much more technically complex setup but they made it easy), who launched the hogmanay celebrations, then Peat Bog Faeries (seriously rockin' celtic tunes), and th evening was filled in by the extraordinary rythms of Wild Marmalade (and friends).
Next morning I was up to re-open Bill's at 8am (seriously tiring experience, this one) and my year was made (on Jan 1) when a beautiful young barmaid asked whether my son Jordan and I were brothers (I'll never let him forget that). New Years' day ended with the fire event, which had a kids monster theme nd began with a massive procession into the amphitheatre space.
The blue thing in the middle is teh amphitheatre stage and the red thing on the left is the fire-to-be, which was packed during the show with fireworks, resulting in a spectaular flaming conclusion, washing away the past year and starting afresh.
I hadn't been to Woodford since Bun Ber E played there in the ?early 2000s? but I am a certain starter, with kids, for next year. Such a wonderful experience, so many great memories. AND I caught up with some old friends and family who came to visit, as a bonus.
Posted by Hughie at
2:49 PM
|
Comments (0)
January 11, 2014
New year, new perspectives, renewed focus
I'm not one for new years resolutions. I take the view that there's no resolution I can make on new years day that I couldn't have made on any earlier day. Life  and success are about strategic evolution and constant effort, not flash-in-the-pan dramatic attempts to change things.  There's plenty of research that tells us that the vast majority of people make new years resolutions and then abandon them very quickly because they don't amount to sustainable life adjustment.
That said, taking a break over Christmas and new year provides a great oportunity to view and renew. in that spirit, I have re-prioritised for 2014 and made some adjustments to my life and habits. Specifically, the theme here is "simplify". One of my issues over the years has been a tendency to take on too much and spread myself too thinly. My 2014 focus is to focus!
Specifically, I'm putting a heap of stuff aside and concentrating on three areas I have neglected for too long:
My next originals albums
My role as Australian Songwriters Association Regional Coordinator in Brisbane
The Prosperous Artist Revolution
These three are, of course, strategically linked, as will be shown over the next little while. Now that I have a solar-powered recording studio attached to my bedroom, I have plenty of space to make recordings and rehearsse. The ASA Wax Lyrical shows give me an opportunity to play in front of people and to hone my songwriting in the presence of other other songwriters (and in collaboration with them). The Revolution gives me an opportunity to connect with like-minded people and build things up.
More on each of these as the year progressed. The challenge is to demonstrate that what I know and am teaching people works for me, too! Now it's down to my time-management skills ...
Posted by Hughie at
1:12 PM
|
Comments (0)