Week 4 - day job blues
This week the day job requirements started in earnest. Tutorials to attend, marking to do already ... dominant. This was, of course, exected, but it's still mildly annoying. Far too much blue in this picture: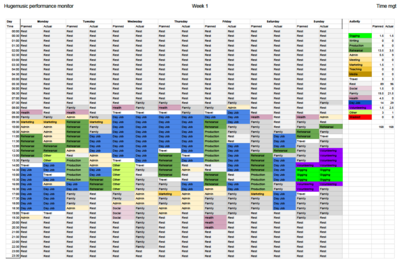 Still, that's what's paying the bills. And I did get to spend a fair bit of time rehearsing for a gig at West Panthers inaugural Indigenous Day. This was a wonderful event at which I was priviledged to play some clasic covers as entertainment after the game. Not the kind of gig I want to make my future, but a good opportunity to get into a rehearsal groove and play in public, nonetheless. Most enjoyable.
Life is at something of a crossroads right now with three paths I might go down. The two that are not the one I have been blogging lately both depend on decisions that someone else has to make, which is frustrating. hey are wildly divergent in terms of what I will be doing for the rest of 2018 and the next few years ... but I can't say anything right now, which is even more frustrating. Just have to wait for responses ...
In the meantime, the Day Job responsibilities are becoming routine and I have songs bursting from my soul wanting to be written and performed. The live show rehearsals are also coming along slowly ... every bit helps atm.
Have you been in this tantalising position? What did you do to keep sane? Tell us below ...
Posted by Huge at July 30, 2018 12:05 PM