Buní Ber E Celtic Bands has no control over the content of material accessible on any sites cross-referenced with our site. It accordingly is the responsibility of the Internet user to make his/her own decision about the relevance or accuracy, currency and reliability of information found on those sites.
Subscribe here to stay in touch:
(Our Privacy policy)
CELTIC MUSIC AS YOUíVE NEVER HEARD IT BEFORE!
BUNí BER E revitalises Celtic folk music, taking a fresh approach to their material by combining modern and traditional styles with variations of theme, pace and tone. The band has featured at all of the major Celtic events, including the Clan Campbell Bannockburn Dinner, Irish Business Association Ball, Glen Innes Standing Stones Celtic Festival, Hervey Bay Celtic Festival, Woodford Folk Festival, Rathdowney Heritage Festival and the Sunshine Coast Scottish Festival.
BUNí BER E has performed at the Brisbane Convention Centre, Twin Towns Services Club, Club Banora, South Bank Parklands, Queensland Irish Association Club Rooms, Kedron Wavell RSL, Heritage Hotel, Novatel Hotel, Carelton Crest Hotel and at numerous other venues for weddings, corporate and Government receptions, and private functions.
BUNí BER E is available for
WEDDINGS
FUNCTIONS
SPECIAL EVENTS
and
GENERAL ENTERTAINMENT!
MEET THE BAND

Malcolm (Flute, Whistle, Bagpipes, Vocals) has been performing for more than 20 years, touring locally, interstate and internationally, including the Edinburgh Military Tattoo and backing for John Farnham.
Fred (Keyboard - mainly piano) has been performing locally, interstate and internationally for over 40 years. He has performed as a soloist, and as backing for many different musicians.
Hugh (Guitar, Mandolin, Vocals, Percussion) has performed locally as a soloist for over 18 years, and has played with the Royal Queensland Theatre Company, the Hinterland Band, and at numerous festivals.
Trevor (Bodhran, Vocals) has been performing locally and interstate with the band for the past five years.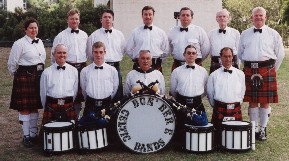 The Pipe Band is made up of musicians who have performed locally, interstate and internationally for up to 40 years. The band performs together for concerts, street marches and static displays, or as individual pipers for weddings, parties, and other functions.

BUNí BER E Celtic Bands, as the name suggests, is a group of many different musicians, performing in a variety of formats in and around Brisbane, Australia.
Depending on your needs, the following formats are available:
3 or 4 piece ceilidh / folk group
Ceilidh band / folk group
with Scottish set dance caller
10 piece pipe band
including dancers
Solo pipers
(pipers are available for mid-week functions)
12 piece concert band with
the pipe band, the ceilidh / folk band, and dancers
Other configurations are available
Ceilidh merchandise now available! Click here for shirts, drinking vessels, fluffy toys and more. Made in the USA and shipped direct to your door.

Bun Ber E's CDs, Ceilidh and Unplugged, are available from CDBaby.com and their tracks are also available for download from Catchmusic, MusicNet (AOL users), MSN Music, QTRnote, Mperia, MP3tunes.com, NetMusic, BuyMusic, Sony Connect &
Apple iTunes, AudioLunchbox, Rhapsody and RuleRadio (who have handed it to college radio station WQFS). It will soon be available from Weed, MusicIsHere (under construction), DigiPie, Napster (USA only), MusicMatch, Puretracks (Canada only), and eMusic.
Search the web: